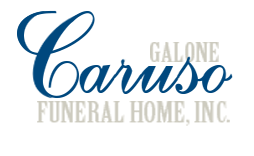 204 Eagle Street
Mount Pleasant, PA 15666
Phone: 724-547-2410
Fax: 724-547-0170
hscarusofuneral@zoominternet.net
H. Scott Caruso, Supervisor
About Us
Galone-Caruso Funeral Home, Inc was founded by Michael P. Galone in 1944. Originally located on East Main Street in Mount Pleasant, the funeral home has been operating at its current location at 204 Eagle Street since 1946. Mr. Galone, along with his wife Sally, operated the business until its sale in1982 to H. Scott Caruso. Mike remained a very active part of the everyday operations of the Funeral Home and in the Mount Pleasant Community until his death in March of 2000. Since then our facility has undergone many changes so that we may better serve our families, our friends and our community.
We have 3 spacious viewing rooms available and a comfortable guest lounge equipped with appliances, coffee and other refreshments. Catering services are also available for the families' convenience. Our lighted parking lot is located directly across the street and along with our covered entranceway , our facility is handicapped accessible. In 2005 we completed our Meditation/Sitting Room which offers a quiet, comfortable area for silent reflection, prayer or just some time alone.
With over 75 years of continuous service, we at the Galone-Caruso Funeral Home continue to serve the families of Mount Pleasant and the surrounding communities as one of the oldest, independent and family-owned and operated funeral homes in the area. We pride ourselves in our ability to serve people of all faiths and denominations and the knowledge of all of the various rites and religious ceremonies and the many local and ethnic customs. We continue to go the extra mile to provide the wants and needs of our "Specialty Groups" from our local Firemen and Policemen, to the PA State Police, and from our dedicated and beloved Veterans to our motorcycle riding friends.
Our "REMEMBRANCE AT CHRISTMAS" Memorial Service is held every year and gives us the opportunity to remember those who have died throughout the year, and to meet with and pray with their family members during the Holiday Season. As each name is read, their family is invited to light a candle and to remove an ornament from the Memorial Tree with their loved ones name on it. This tradition has become one of the most special and rewarding Services for all of our employees as well as for the families of those that we buried throughout the year. Compassion, caring, kindness and exceptional service are our foundation and will continue to be our commitment to all those families who entrust their loved ones to us.