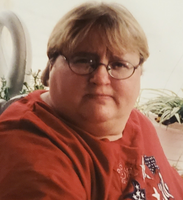 Sally Rae Tate
Sally Rae Tate, age 58 of Mount Pleasant, PA, died unexpectedly, Wednesday, (9/4/2019) in the Excela Health- Frick Hospital, Mount Pleasant.
Ms. Tate was born April 18, 1961 in Mount Pleasant, PA, the daughter of the late John and Rachel Trout Tate. She was a member of the Hilltop Baptist Church. Sally was a 1980 graduate of Mt. Pleasant Area High School. She had been employed by Cogo's for more than 20 years and then worked for Valley Community Service as a Resident Assistant. Sally was a true animal lover who adored her pets, especially Cindy and Annie. She loved going out with her special friends at the Village on her birthday. Sally had a vibrant personality and a quick wit. She loved talking to people and was a lot of fun to be around. She touched many lives and will be greatly missed by all those who had the pleasure of knowing her.
Sally is survived by her loving family: her brothers and sisters; John D. Tate (Wendy), Lawrence Tate (Jane), Ronald Tate (Sarah), Randy Tate (Debbie), Gary Tate, Richard Tate, Mary Jo Tate, and Margaret Ann Tate, and sister in law Crystal Tate Reed. She is also survived by numerous nieces and nephews and by her special niece, Rachel.
In addition to her parents, Sally was preceded in death by her brothers; Robert Dean Tate in 1981, Donald Eggo Tate 1999, and James Vincent Tate in 2000.
Family and friends will be received Sunday from 1 until 8 PM at the Galone-Caruso Funeral Home, 204 Eagle Street, Mount Pleasant.
Funeral Services for Sally will be held Monday at 11:00 AM in the funeral home, with her Uncle, the Rev Meredith M. Trout officiating.
Interment will be in the Mount Pleasant Cemetery. In Lieu of flowers, the family suggests contributions be made to the Mt. Pleasant Cat Committee in memory of Sally Rae Tate, C/O Philomena Polanovsky 707 Broad St. Mount Pleasant, PA 15666.To offer an online condolence, please visit our web site at: www.galone-carusofuneralhome.com