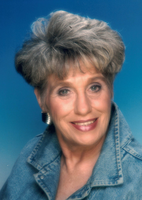 Florence M. De Simone
Florence M. (Kita) Yeskey DeSimone, age 85 of Mount Pleasant, PA, died unexpectedly, Friday (08/30/2019) in the Excela Health-Westmoreland Hospital, Greensburg, PA.
Mrs. De Simone was born July 20, 1934 in Mount Pleasant, PA, the daughter of the late Joseph and Margaret Mongellieo Kita. She was a very active member of St. Pius X Roman Catholic Church, its Christian Mothers and the Ministry of Consolation. Florence was also active in the community. She had a love of sports, especially football, baseball and wrestling, and was one of the originators of the Mt. Pleasant Girls Softball League. Dancing was her passion. If there was music playing, she was dancing. Her kind spirit and compassion for others was unrivaled, always lending a helpful hand to those in need. Florence could light up a room with her smile. She will be greatly missed by all who had the pleasure of knowing her.
She is survived by her loving husband of 30 years, Raymond DeSimone, her children; Patricia (John) Cheek, Pamela Beranek, Cynthia (Eugene) Heald, Ralph (Sue) Yeskey, Jeffrey Yeskey and Thomas Yeskey. She will be greatly missed by her six grandchildren and nine great grandchildren and by her step children; Raymond (Denise) DeSimone, Jeff (Jenni) DeSimone, Christine DeSimone and David (Kim) DeSimone and by her eight step grandchildren. Florence is also survived by her brothers and sisters; Jack (Barbara) Kita, Dave Kita, Robert (JoAnn) Kita and Betsy (Wayne) Hodge and by her sister in law, Nancy (Rege) Michaels. In addition to her parents, Florence was preceded in death by her first husband, Ralph Yeskey, Sr., her brother, Joseph Kita and sisters in law, Maryann Kita, and Ellen Kita.
Family and friends will be received Friday from 12-Noon to 1 PM at St. Pius X RC Church, 224 Summit St., Mount Pleasant, PA., A Funeral Mass for Florence will be celebrated immediately following at 1:00 PM , with the Rev. Richard J. Kosisko as celebrant.
Inurnment will be in the St. Pius X Parish Cemetery, Mt. Pleasant. Following the Funeral Mass, the family is inviting everyone attending to the Standard Shaft Citizens Club for a celebration of Florence's Life. Arrangements have been entrusted to the Galone-Caruso Funeral Home, 204 Eagle St. Mt. Pleasant, PA 15666. To offer an online condolence, please visit our web site at: www.galone-carusofuneralhome.com