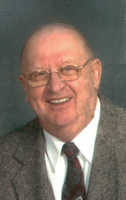 Gerald R. Seaman
Gerald R. Seaman, age 84 of Mount Pleasant, PA, died Sunday, (8/25/2019) in the Excela Health- Frick Hospital, Mount Pleasant, PA.
Mr. Seaman was born July 8, 1935 in Bridgeport, PA, the son of the late William and Edna Tamblyn Seaman. He was a member of the Good Shepherd Lutheran Church of Mt. Pleasant. Gerald had been employed by the L.E. Smith Glass Company until his retirement, with over 48 years of service. He was an avid Steeler Fan, but most of all loved spending time with his grandchildren and great grandchildren
He is survived by his loving family: his devoted wife of 64 years, Donna Gangi Seaman, his beloved daughter, Pam (Bob) Mayes of Mt. Pleasant, his grandchildren, Robert Mayes, Jr. and Mellissa (Andrew) Gamble and by his Great Grandchildren, Bryce, Dante and Dominic Gamble. Gerald is also survived by his sister in law, Phyllis Seaman of Scottdale. In addition to his parents, Gerald was preceded in death by his brother, Robert Seaman.
Family and friends will be received Thursday from 2 until 5 PM at the Galone-Caruso Funeral Home, 204 Eagle Street, Mount Pleasant.
Funeral Services will be held immediately following viewing at 5:00 PM Thursday in the funeral home, with the Rev. Dr. Janice Altenburger officiating.
Private Interment will be in the Mount Pleasant Cemetery. To offer an online condolence, please visit our website at: www.galone-carusofuneralhome.com