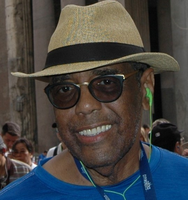 James Ira "Ike" Thomas
James Ira Thomas, affectionately known as "Ike" went to be with Lord surrounded by family and friends on July 25th, 2019 in his home in Loganville, Georgia. He was born April 18th, 1946 to the late William Donald Thomas and Ethel Mae Thomas in Mt. Pleasant, PA. Growing up, Ike was very active in his home church, Second Baptist Church, where he was baptized at a young age.
After graduating from Mount Pleasant Joint Schools in 1964, Ike attended and graduated from West Virginia University in 1969 with a degree in Pharmacology. Ike was the first African-American to have graduated as a Pharmacist from West Virginia University. Upon graduation he was admitted by the Board of Pharmacy of West Virginia and then the Kentucky Board of Pharmacy in March 1970. That triumph led to a 50-year career as a pharmacist in a variety of settings from hospitals, to clinics, to his own independent pharmacies throughout southeastern Kentucky. In 2018, Ike retired from Paul B. Hall Hospital in Paintsville, KY and sold his pharmacy in Salyersville, KY.
Ike was an only child but had no shortage of brothers and sisters. He grew up in the same home as his cousins Phil and Gloria. After moving to KY he picked up a few more siblings… Lowell Dean Parker, Raven, Mike, Jessie, Reda, and his little cousin Nancy.
He and his first wife, Barbara, had three children, Jimmy, Candee, and Samuel. In subsequent marriages and relationships, he was a father-figure and role model to multiple other children.
Ike was generous, considerate, and dependable. He never met a stranger. He would strike up conversations with absolutely anyone! No one that ever met him could forget him with his big bright smile and easy going, friendly disposition. Even when recently traveling to Europe he would strike up conversations…no matter that he was speaking English and they Spanish, French, and Italian! Nope, he never met a stranger.
Ike was very creative. Perhaps his most famous idea occurred in the late 1970s when he visited his family in California. California was in a draught that year, but there was plenty of water in Kentucky. Ike's idea was to bottle water. Low and behold several years later, bottled water was on the market.
Ike loved his children, grandchildren, and great grandchildren. He would drive many hours to cheer for an array of activities, ranging from basketball, track, band, golf, volleyball, or a concert. He was always there, always smiling, always providing words of wisdom.
Most of all he loved his mother and provided an example to all of how important our parents are. As an only child he had a huge responsibility, especially after his father died. Ike, not only would visit his mother who lived six hours away at least monthly, but eventually she moved to wherever he was. He bought her diamonds and pearls and dresses and anything he thought she needed…..or even if she didn't.
Ike will be very much missed, but his memory will live on in the hearts of all those with whom he came in contact. Ike was preceded in death by his father, Donald Thomas. He is survived by his mother, Ethel Mae Thomas, his three biological children, William James Thomas (Monique), Lillian Caniece Haywood (Hodges), Samuel C. Thomas. Four grandchildren, Audrey Brown (Terell), Breana Thomas, Austin Thomas, and Sampson Haywood. Five great grandchildren, Isaiah, Abigail, Immanuel, Grace, and Hannah Brown. He is also survived by a host of "brothers and sisters", cousins, and tons of other family and friends.
Family and friends will be received Friday, August 9; from 6 until 8 PM at the Galone-Caruso Funeral Home, 204 Eagle Street, Mt. Pleasant, PA. Additional viewing will be held Saturday Aug. 10; from 10 AM until 11:00AM the time of Funeral Services at the funeral home , with the Rev. Lowell Parker, officiating. Private Interment will be in Mt. Pleasant Cemetery.
In lieu of flowers, donations in the memory of James Ira Thomas can be given to either of the two scholarships we have chosen and are listed below. If you would like, you can give online at https://give.wvu.edu/pharmacy and then click 'Specify designation". This brings up a donation page and you will then need to pick the drop down for 'specify designation' and type in either Steven C. Judy Scholarship or Gerald L. Sprowls Scholarship.
You may also send a check made out to WVU Foundation directly and send it to:
Kevin Tephabock
WVU School of Pharmacy
PO Box 9500
Morgantown, WV 26506
To offer an online condolence, please visit our web site at: www.galone-carusofuneralhome.com