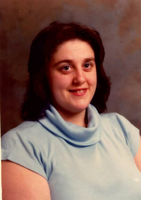 Pamela M. Hare
Pamela M. Hare, 65, of Mt. Pleasant died Friday February 24, 2023 at home surrounded by her loving family. Mrs. Hare was born October 24, 1957 in Connellsville to the late Fred and Doretta Mowry Brown.
Pam was a faithful member of the Buchanan Church of God in White. She was a graduate of Connellsville High School class of 1975 and later took classes at Penn State Fayette. Her true passion in life was taking care of babies and she found that when she started working at Our Buddy's Place Daycare, for many years. She was a member of the Saltlick Ladies Auxiliary. Pam loved spending time with her family, especially with her grandsons.
Pam is survived by her loving husband who she would of celebrated 40 years of marriage on June 25th, William Hare; her loving children, Ashley McLaughlin, and William Hare Jr. (Jaime Bowman); and by her adoring grandsons, Hunter, Colby, and Brock McLaughlin, and Blaine Roccia. Pam is also survived by her siblings, Gregory Brown (Teresa), Louann Fabian (James), and Lisa Donaldson (Kenneth); her mother-in-law, Annabelle Hare; her brother-in-laws, George Hare (Linda), and Carl Hare; Chad McLaughlin, who was like a son to Pam; numerous nieces, nephews, and cousins; and by her faithful sheltie, Mckenzie. In addition to her parents Pam was preceded in death by her brother, Barry Brown; and by her father-in-law, George Hare Sr.
Family and friends will be received on Monday from 3:00 to 8:00 PM at Galone-Caruso Funeral Home, Mt. Pleasant. A funeral service will be held on Tuesday at 11:00 AM in the funeral home with Pastor Tim Beatty officating. A committal service and entombment will follow in Middle Presbyterian Cemetery. The family would like to extend a special thank you to the entire staff at AHN and their hospice, for their wonderful care and kindness. To offer an online condolence please visit our website at www.galone-carusofuneralhome.com